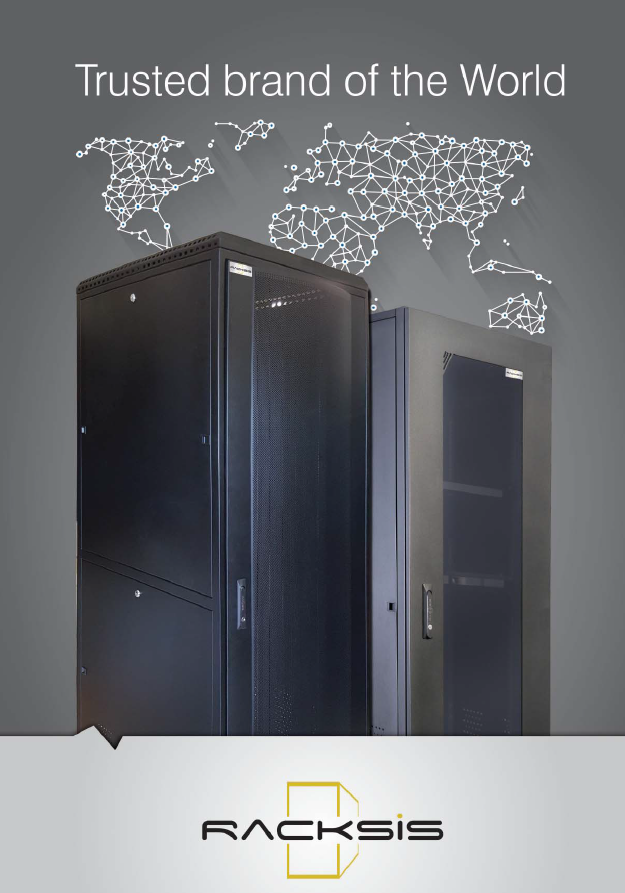 You can easily make a choice your requirements equipped
with "U" sizes and vide range of accessories.
Provide fl exible assembling combinations for 19" devices
with variable width, depth and height.

 

The Racksis® Rack Cabinets, are easily compatible


to assemble to 19" standard devices due to compact
design.
It increase your labour & energy productivity by using
user friendly designed cable organisers which are
designed to assembling for both right & left side
termination of signal & control equipment cabling .
 It provides you passive ventilation control by rear and front
side doors single / double winged, glass & 63% perfored
metal doors with spring hinged fi t your requirements and
optimize your selectivity. The 80% perfored door option is
also available.
 There are ventilation fan slots at whole cabinets including
outdoor types which help you to control & coordinate
ventilation and inner climatization for electronic devices with
1, 2 4 and 6 fan groups.
 There are multi-variable accessories such vertical
and horizontal socket groups (PDU), cable organizers,
vertical cable trays for server applications, closing panels
to protect static areas, fi xed and draw-out shelves,
aotumated lightening modules, panels for patch &
modem.

Network and Server Series Racksis® Rack Cabinet's


castors and/or levelling feet could be mounted on the
rack. Server rack cabinets have anti-till bars at bottom
frame to prevent overturn & tripping during equipment
installation.

Racksis® Wall series rack cabinets are distinguished with smart design, user friendly
assembling feature, vide product range high loading capacities, and durability.
It is being produced 45 cm & 60 cm depth for between 7U to 20U highness to meet your
diff erent requirements.
1300 opening angle of front door, opening side covers are providing user friendly operation
opportunity to installation and any kind of maintenance. Racksis® Wall series rack cabinets
can optionally be equipped with castors and levelling feet for 9U and above.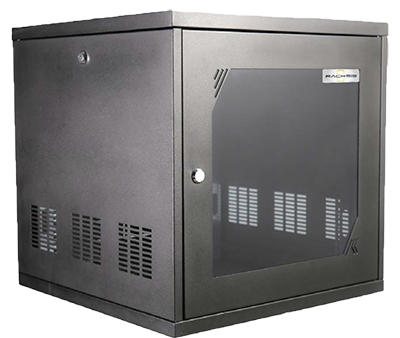 Standard Wall type Rack Cabinet has a metal frame tempered glass door, pre-cut cable entry, and fan slot for 2 fans.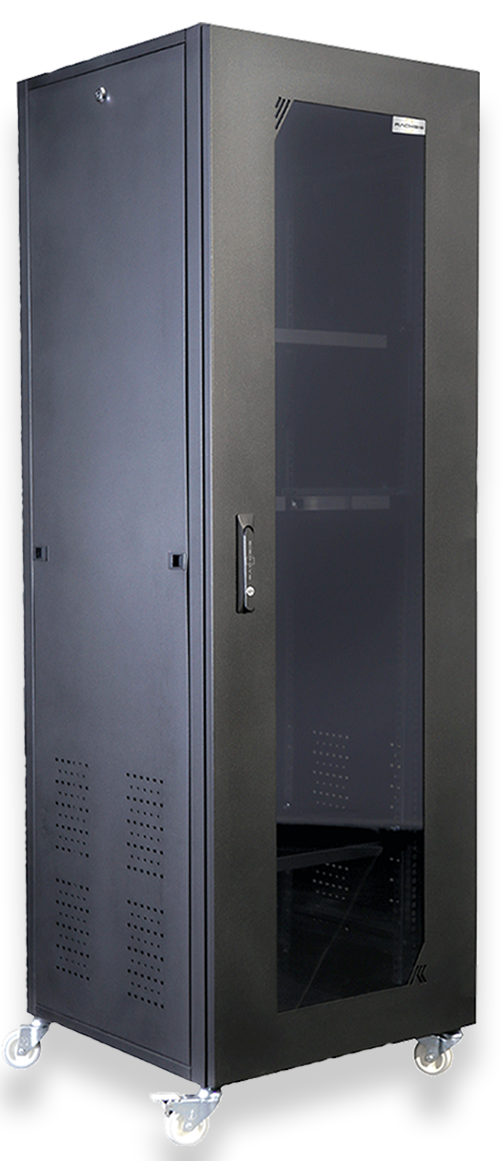 Racksis® Network series standing type rack cabinets perfectly match your offi ce and
industrial requirements hence esthetical design, vide range of accessories, robust structure
active & passive ventilation from top cover.
The required "U" sizes are produced within 60 cm, 80 cm and 100 cm depth varieties.
Racksis® Network series standing type rack cabinet's standard fi nishing colour is RAL
9005 Signal Black. The special colours are also available upon request.
Network
General Features:
• Inner active ventilation by 2 & 3 pairs fan groups.
• Ventilation fan with and without thermostat,
• Perfored, solid and glass doors applications
• Single and double winged doors options for 600mm and 800mm width
• Cable entry from back door
• Top covers and cable entry from top cover sheet options for cabinet's
600mm and 800mm and 1000mm depth
• Bottom sheet including pre-cut, brushed and sliding type cable entries
options.
• Side metal panels are easily removable and includes slide spring latches
& locks.
• Server Rack's bottom frame includes anti-till bars to prevent tripping as
standard
• Castor and/or levelling feet
• Tempered glass door option
• Excellent strong chassis by adjustable profi les.
• User friendly vertical cable organizer option for 800mm depth cabinets
• Movable front and rear chassis and "U" market for 19" mounting rails.
• User friendly cable tray options
• Vide range accessory variation for easily installation of 19" mounting
Application Area
Server
Work Station
Network Switch / Router
Fiber / Cat6 Patch Panel
Modem / Router
Camera Recording (DVR)
Telecom connection boxes or
Splitters
External HDD
Backup Disk
Network Series Racksis® Rack cabinet has got, levelling feet, front
door is single wind metal frame glass door, removable solid metal
rear cover with espagnolette and spring hinged, pre-cut bottom
cover for cable entry and vented top cover as a standard product.