Additional Banking Equipment
In addition to the professional banknote and coin processing machines, you can find professional automated detectors for verifying the authenticity of the banknotes from the brand Masterwork Automodules, various models of UV DoCash Door detectors, safety bags for money transportation, safes in various sizes and locks for hotel and home use, pulse blanks, time bags and what not yet …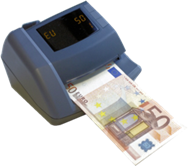 The automatic detector PD-100 Masterwork Automodules works on the principle: putting a banknote, the detector pulls it through its scanners, if the banknote is OK, the screen displays the nominal value of the checked banknote, and if the bank note is suspicious on some grounds (UV , MG, IMAGE, etc.) returns the banknote and displays the reason for the rejection on the screen. It's not 100% proof that the banknote is forgery, but it's suspicious. Determining whether a banknote is a forgery or not is made by the NBRM. Automatic detectors have turned into necessary tools for working in shopping malls, markets, boutiques, perfumery, petrol stations, tolls, restaurants, toll centers … with a constant tendency of increasing their application by legal entities from different areas. Their mobility, the ability to operate battery-free cables, makes them suitable for all mobile businesses.
This model is a software that offers a check on the authenticity of 5-currency banknotes with the ability to change or supplement currencies according to your needs.
UV light detectors allow you to check the UV protection of banknotes. Easy to use, compact and practical.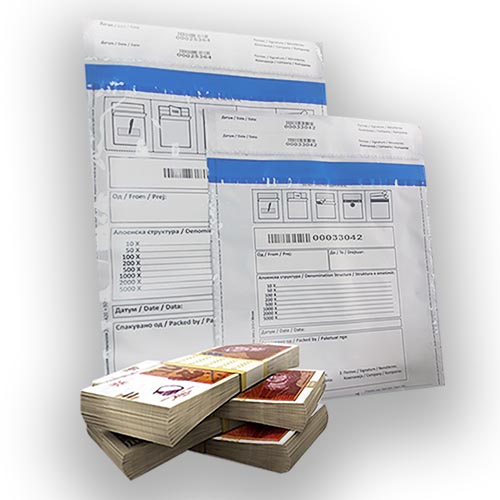 Safety bags for single-use money transfer in different sizes. Synthetic bags are used by CIT companies, banks and other financial entities. The one-time use ensures the safety of the means of transportation. Once opened, a color that can not be erased appears on the bag. Each bag has its own unique serial number, data entry fields, company name, responsible person, content specification, date and note field.
Safety lockers with mechanical and electronic locks, in different sizes. Suitable for home use, hotels, markets, offices, etc. We also offer you airlift and time boxes with maximum protection against theft.
The time boxes are adjusted so that they can be opened only for a specified period of time.